Back to Office - Furniture
Furniture
Our wide range of office chairs covers a multitude of different uses: whether you need comfortable desk chairs, large reception chairs, or durable canteen chairs, we have the seating available to buy in bulk for you and your growing business. If your headcount has grown or perhaps even a new department has emerged, you will naturally need some ergonomic office chairs and seating solutions. If you're simply refreshing your office's décor ready for the back to office rush, then take a look at our competitive range of office seating. Explore a selection of fantastic priced office chairs below or shop the full range here.
After spending time away from communal office spaces and virtual meetings through screens, it's time to bring your team back together with new office meeting tables from Ryman Business. Suitable for internal meetings and hosting clients, our tables are available in a wide range of different sizes and finishes. Collaborate, debate, discuss, and meet again across tasteful white and classic oak meeting tables for your conference room.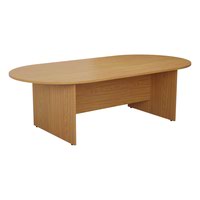 Product Code TK1810DENO
Category
Meeting Tables
£330.10
Pack of 1
incl. VAT £396.12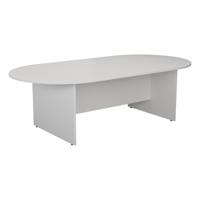 Product Code TK1810DEWH
Category
Meeting Tables
£284.57
Pack of 1
incl. VAT £341.48
Our range of office desks boasts different sizes, shapes, and finishes all at competitive prices available to bulk or multi-buy. Refresh your wooden office desks with our oak range or opt for corner or standing desks to fit in best with ergonomic office design. Whether you're downsizing, upsizing, or simply upgrading your business premises, your staff and team will benefit from the modern desking options available to order online with us.
Office pedestals keep each workstation organised, tidy, and clean by offering plenty of storage space for Stationery, Files, and personal effects. Available in different finishes including oak, walnut, and white, these pedestals will keep your Desks clutter-free. With a range of different sizes in depth, height, and number of drawers, we have the desk pedestals suitable for every interior aesthetic.
Ryman Business are proud to supply office furniture and essential equipment to all business sizes and sectors. Let us help support you during Back to Office 2021 by creating an account to receive exclusive benefits and support from a dedicated team here to fulfil your office supply needs. Join us today.